home - illustrations - paintings - biography - noticeboard - links - tango - contact
Contact Details
Chris Shields - 2 Bramble Walk, Sale, Cheshire M33 5LL
Tel: 0161-973 2520
Mobile: 07767711194
chris@chris-shields.com
Follow @tangoartist
Interview on Manchester's Channel M Arts program - Zeitgeist Online.
Certificates of Authenticity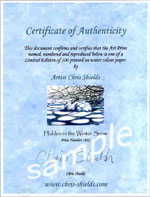 From September 2003 Chris Shields has been issuing certificates of authenticity with each of his original artworks. Each certificate incorporates a photograph of the painting is embossed by hand and personally signed by the artist. If you  purchased a painting before this date and wish to obtain a certificate please e-mail for details. (there is no charge for this service
TV interviews:
_____________________________________________________
Exhibitions:
David Shepherd Wildlife artist of the Year Exhibition. - The Mall Galleries London. 27th June - 2nd July 2016
Courses & Demonstrations:
Art demonstration (palette knife technics). Dove Holes Community centre.Station Road, Buxton, Derbyshre, SK17 8DH. Monday 9th May 2016.
Private lessons available, details on request.
_____________________________________________________
New Publications:
Field Studies Council -Guide to Chalk rivers of England. Text by Charlie Bell Illustrations by Chris Shields.
Insects of Irland- Collins Press. by Stephen McCormack, Eugenie Regan and Chris Shields (15 May 2014)
Ladybirds- Pelagic Publishing 2013
Collins Fungi Guide - The most Complete Guide To The Mushrooms & Toadstools of Britain & Ireland. Stefan Buckzacki Chris Shields & Denys Ovenden
Field Studies Council - Guide to the 'top 50' garden birds. Concept and text by Eward Jackson and Andy Simms. Illustrations by Chris Shields.
Youtube video slide show 2012 http://www.youtube.com/watch?v=a0wI1vYs6s0
Competitions:
Chris Shields - Winner 'Visitors Choice' with Black-faced Spoonbill - Acrylic on canvas. Stockport Open Contemporary Exhibition 2011.
Chris Shields - Overall Winner with Blue Kingfisher Green Water - Acrylic on canvas. Wildlife Art Expo 2008. Chester.

BBC - Radio 4 - Radio and the Artist - Competition Gallery Two